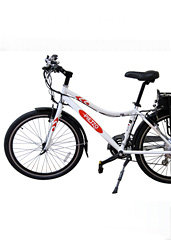 Today: not super hot.
This summer in general: pretty freakin' hot.
So it's time to adapt. With a bike that does the work for you.
Presenting the
Pietzo Electric Bike
, a homegrown bicycle that's half bike, half electric moped, now available by direct order.
Hailing from our own Bedford, Massachusetts, think of the Pietzo as what would happen if Nikola Tesla, Lance Armstrong and the guy who made the Segway got together and said, "Let's make a bike."
What separates it from any normal Schwinn, Trek or Huffy: a built-in 36V rechargeable electric motor, which can be detached, plugged into a standard outlet and charged for up to 40 miles of "biking."
So picture it: you're pedaling through the Back Bay, Cambridge or Martha's Vineyard and you hit a stretch of road that you could use a little help tackling. Press a button, watch the handlebar-mounted LED screen switch from low... to medium... to high, and you'll suddenly feel like you have the leg strength of Arnold Schwarzenegger circa
Pumping Iron
(or at least
Twins
). Translation: the bike will take off without much effort from you.
They've even got a fold-up version, in case you'd rather bring your work transportation into the office.
Or want a whole new way to hit up the snack room.