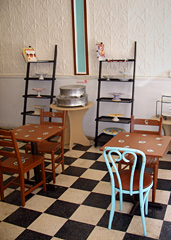 Everyone likes a delicious baked good from time to time. You know, cupcakes, cake-cakes... that type of thing.
But let's face it—the pastry game could always use a little shakedown. Some excitement.
We turn to you, alcohol...
Introducing
Cake Hag
, a new absurdly monikered bakery graciously providing the very thing that your dessert arsenal has been missing all this time... booze.
So let's say you're at the big company cookout, and Old Man Jenkins can't wait to unveil this year's handpicked batch of fun-tastic icebreakers. Sure, spiking the punch is a start. But you've also come equipped with a
Jameson's Banana Pudding Cake
under one arm (this one is strong) and a
Mojito Cake
under the other (this one is stronger). And like that, trust falls just got a bit more... interesting.
You've got a few options here. You can stroll into Hag HQ and pick up whatever happens to be in the bakery case that day (count on
Red Wine Velvet Cake
every day), or call ahead and pick up your
Bourbon Chocolate Cake
whenever you have time—which is always, when bourbon is involved.
But what you really need to know is that all of this boozy, baked goodness can and will be delivered right to your door... wherever that door may be.
With a strict "no eating and driving" policy, of course.
Note:
<a target="_blank" href="http://www.cakehag.com/">Cake Hag</a>, now open, 501 Grant St SE, 678-760-6300