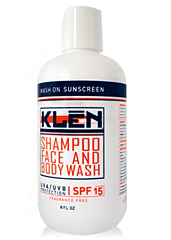 You're a multitasker.
So when you're in the shower, you're not just washing off mojito residue, you're also belting out obscure operatic ballads and envisioning award-winning TPS reports.
But lately you've been thinking you could be doing even more. Like protecting yourself from UV rays...
Here to help with that is
Klēn
, a hair-and-body wash with the added bonus of being a 15 SPF sunscreen—and the next logical step in the race for the world's most complete shower gel—available now.
If Axe and Coppertone hooked up for a torrid, water-soluble one-night stand, the result would be a boy named Klēn. Here's how you'll want to use it:
Step one: take off your clothes, get in the shower and turn on the water.
Step two: squirt out a handful of Klēn and rub it all over your body and hair. Don't forget the crevices, nooks and/or crannies. This is for all of your 2,000 parts.
Step three: do nothing. As you do this, Klēn—which was designed by a very forward-thinking dermatologist—uses "electrostatic attraction" to stay on your skin.
Step four: rinse, towel off and put on that day's seersucker.
And keep in mind: if you do it right, your entire body will be UVA and UVB protected, meaning no missed spots in hard-to-reach areas.
Your vision of a naked-beach-volleyball tournament is one step closer to reality...