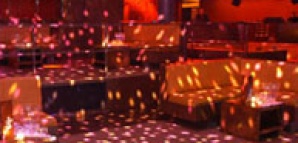 Three out of four dentists might not recommend this scene, but some NYC partygoers are starting to get a sweet tooth.Rock Candy is the latest celeb haunt that, after two months of SNL, Vogue and Details parties, is starting to see some mere—but pretty fine—mortals come through.

Grab a piece of free candy on your way in to this chic open-plan space (designed by Steve Lewis of Marquee) with 30 tables and an above average VIP area—set on a perfect see-and-be-seen stage. The giant five-foot-wide disco ball is a little cheesy, but you won't mind as it's flashing across high cheekbones and lithe limbs.

Tuesdays are rock nights, home to industry hipsters. Thursdays are younger, modelesque and sceney. Fridays and Saturdays are the hottest—fun, glam, hip hop and '80s, with the crowd packed in tight and easy on the eyes—impressive for an especially muggy summer when most are decamping to the Hamptons.

The door is tougher to manage than Andy Dick on a bender, so book some tables and bring the lovelies. You may leave Rock Candy with sticky fingers and one hell of a sugar high.