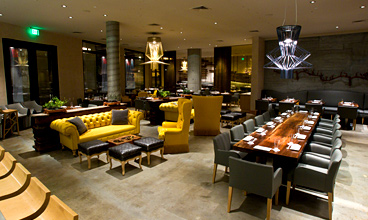 All right, we hope you're fully recovered from your weekend, because we've got big news:

Morimoto's coming to Napa, and they're taking reservations... now.

Go ahead, we'll be here when you get back.

Introducing Morimoto Napa, a new riverfront mecca for Tokyo-meets-Wine Country feasts that would make Bacchus proud, soft-opening this week.

This is it: the first West Coast foray from Iron Chef's Masaharu Morimoto, who has slowly been building his empire in New York, Philadelphia and Miami (as one does).

But think of those as practice rounds for this: an industrial palace of fresh sushi, local wine and... beer. You'll head up for dinner, or tack a trip onto a wine tasting Napa day trip. Start with some dirty martinis on the sofas in the lounge near the bar, which is backed by old vines encased in glass (as the best bars usually are).

Then you'll move to the patio overlooking the Napa River, where you'll order up Morimoto's sashimi, made with seafood flown in directly from Japan. Follow that up with a bacon-heavy Sea Urchin Carbonara, which will stand up to one of the old-world reds on the wine list. Or try a signature Rouge Ale, and soon a whole range of house brews, made on site.

At which point they might start calling it Beer Country.