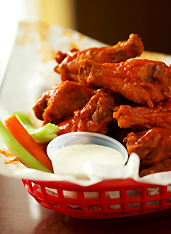 We couldn't help but notice that the Miami Heat have gotten a little press coverage lately.
But today, we want to tell you about a different kind of heat. Specifically, chicken heat.
That's right: hot, fresh, spicy poultry. From a new food trailer called
Wing Commander
, now rolling through town.
Think of it as a classic chicken-wing shack—only set on wheels and pulled by a truck—that you'll see popping up all over the city during the day and occasionally at night.
When you
track it down on Twitter
or catch a sweet-and-tangy whiff of it outside your office, you'll come face to face with
a menu that's refreshingly simple
. For $5 you can order a dozen
Victory Wings
with one of five sauces:
Ignition
("just enough heat to get your engine started"),
Afterburner
("a sneaky heat" that promises to put you into a vague state of "overdrive"),
Sweet and Sassy
,
Hold the Peppers
or
Better than Buffalo
(a Miami creation that is allegedly superior to anything from upstate New York).
If you're not in a wings state of mind (that's chicken wings, not Paul McCartney Wings), they've also got burgers, chicken sandwiches and mushroom caps (known as
Moo
,
Cluck
and
Fungus
, respectively), plus an explosive half fry/half chip hybrid called
Chippies
.
This could be the greatest thing to happen to wings since Thomas Haden Church...