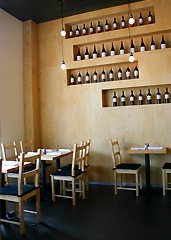 There are certain things no neighborhood should be without: a good wine bar. A place where you can get jet-fuel-strength cafecitos. A tapas joint.
But when you put all three of them together into one place, that's when you get something truly remarkable...
Introducing
Bernie's L.A. Café
, your new Latin comfort food spot, now open in South Beach.
Think of this sliver of a restaurant as the gourmet equivalent of your typical greasy empanada-and-cortadito stand. Helmed by Bernie Matz, the chef behind local favorite The Café at Books & Books, this is where you'll go for belly-filling lunches with friends and post-movie bites with a date.
Housed in the former Cajun fast-food place The Spot, the space looks totally different now, with blond wood wine racks, a handful of tables and a fire-engine-red wall. You'll come in with your date or friends, settle down with a bottle of Argentinean Malbec and dig into
a slew of small plates
like
Grouper Ceviche
with celery and grapefruit. Then, you'll move on to heartier stuff like
Chorizo Tacos
and a
Havana Cheese Steak
.
And since the chef is a Miami veteran, you'll probably catch a few power players, chefs and real-estate moguls stopping in for thimbles of coffee and spirited powwows in Spanish.
Nothing inspires a powwow like a thimble of coffee.