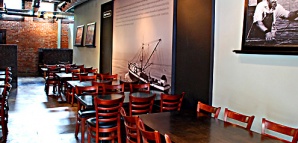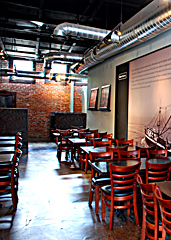 Your sea legs have always fared you well.
From dodging icebergs in the Arctic to unleashing champagne corks on schooners in the Caribbean, you've made your rounds.
But on those rare occasions when you find yourself landlocked, all you really need is a cold draft, about a dozen oysters and a few black-and-white party pics of some burly, old-timey fishermen.
Which brings us to
Goin' Coastal
, a no-frills neighborhood seafood joint opening next Wednesday in the heart of Virginia Highland for your seafaring enjoyment.
It's the kind of place where that salty captain from
Jaws
would feel right at home swapping shark stories with the crew of the
Cornelia Marie
(sailors do this). You'll enter through the bar—which also doubles as a kitchen/expo line—where you'll sidle up for a
Coconut Rickey
and a few laughs with the owners before making your way down to the dining room to officially earn your stripes.
You'll want to start out with some
Fried Gator Tail
(if only to keep those burly fishermen from staring you into submission) before moving on to the heavy stuff, like
Lobster and Peekytoe Crab Cakes
or
Coastal Scallops
with a side of
Jalapeño Corn Bread Pudding
.
In other words, sea legs with panache.