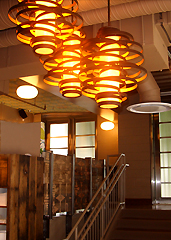 After a long weekend of questionable fire play and the occasional Springsteen-ian display of patriotism, you may have worked up an appetite.
This calls for some comfort food.
And by comfort we mean you may not even have to leave the office...
Enter the
Highland Bakery Midtown
, a new built-for-speed outpost of the original Old Fourth Ward location, soft-opening next Monday in a Midtown office building.
Think of this as the first power-lunching spot where the words "pass the syrup" might actually come into play. You won't find the massive and historic neighborhood hamlet that you've grown accustomed to out east, but what awaits you is a cozy little den of Southern comfort food discreetly tucked away in the corner of a modern-day, white-on-white office tower.
In the interest of efficiency (you've still got power golfing to think about), the menu will be a slightly scaled-down version of the behemoth original, but you'll still find the necessary staples like
Peanut Butter French Toast
,
Pimiento Cheese Sandwiches
and
Sweet Potato Pancakes.
Entire empires have risen and crumbled over pancakes.