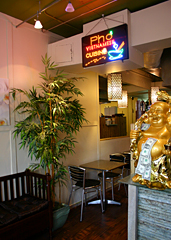 So the weekend was a washout. On the bright side, you discovered the joys of grilling in the rain.
But today is a new day. Full of possibility, the chance of sun and maybe a crusty, Vietnamese-style baguette to brighten your spirits.
Say hello to
Miss Saigon Bistro
, South Beach's first Vietnamese sandwich outlet, now open on Washington Avenue.
If you've ever sat on the beach and wished you'd brought a picnic basket full of banh mi—that Vietnamese/French mash-up of a baguette stuffed with pickled vegetables, cilantro and grilled pork, chicken or beef—this is your spot.
Owned by the same Saigon-born folks who helm the Coral Gables restaurant of the same name, this is where you'll go when you have a hankering for those tasty Vietnamese sandos, rice noodles sautéed with shrimp and
authentic dishes like pho
—soul-warming soups made with beef, chicken or seafood.
The place is tiny (three tables, six chairs), so you'll want to take your order to go and walk a few blocks to the beach, where you can enjoy your takeout with a view of the ocean.
And maybe an umbrella, just in case.