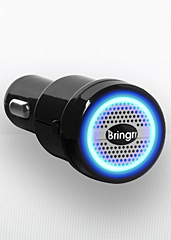 Today, as you prepare for an epic holiday weekend, we wanted to leave you with a frightening thought. A cautionary tale, if you will.
Picture it: you're heading out on a three-day road trip of rest, relaxation and possibly some late-night burlesque. About an hour outside of town, you get a sinking feeling in the pit of your stomach. You feel naked. Vulnerable. Incomplete.
The worst has happened: you've forgotten your phone.
This wouldn't have happened if you had
Bringrr
, available now.
Think of Bringrr as a personal assistant whose only concern is that you leave the house with your mobile handset in check. To get it working its techno magic, all you have to do is sync up the device with your phone's Bluetooth and keep it plugged into your car's cigarette lighter.
Then, if you've forgotten your phone and start the car, Bringrr will beep and turn red. If you haven't forgotten your phone, the device will turn blue and send you a reassuring little signal that all is good and you can proceed.
We don't know how Washington and Jefferson survived without this.