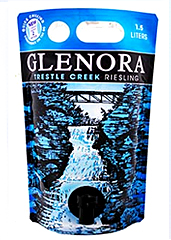 The Vespa.
Blackadder
reruns. The man purse.
Some of the most firmly embedded elements of European culture just haven't caught on in the States.
But we think that's about to change...
Introducing the
Trestle Creek Riesling AstraPouch
, the first entrance into America of a wine-containment unit that's become quite chic in Europe, available now online.
Think of it as a cross between a Capri Sun and a bottle of wine, with the added bonus of being a popular form of packaging in some of the finest spots in Europe (Italy, Spain, etc.). Then take that concept and double it, because it holds roughly two bottles' worth of vino, and fill it with a summery Riesling boasting the aromas of fresh apricots and peaches. (So much better than the aromas of a French cab driver.)
You'll want to take it on trips because it's hard to break, and it doesn't make any annoying clinking sounds in your duffel bag or picnic basket. You might even want to order one for later this weekend, when you can toast America with something they're already enjoying in Barcelona and Madrid.
Now if only the midday siesta would catch on.