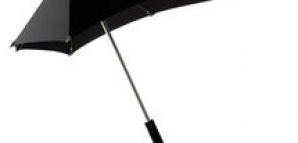 You've always maintained that the true test of style occurs not at a formal gala (everyone can pull off a tux), but amid life's more unexpected occurrences.

Like precipitation, for example. When a few scattered raindrops drown the city's streets in chaos and confusion, you've seen otherwise-dapper compatriots easily felled by a rogue wind—an upended umbrella can seem the weather-fueled equivalent of being caught with your pants down. Rise above the fray with the Senz Umbrella by Totes.

The striking asymmetrical shape isn't just to help you stand out in a crowd (though it does that too). The aerodynamic design was perfected in a Delft University wind tunnel, a bastion of Dutch science where airplane wings and solar vehicles are also put to the test, in order to create a next-generation umbrella that can withstand winds of up to 70 miles per hour. You might also note the "eyesaver" tips, which manage to hold the whole contraption together without the usual protruding points that endanger the corneas of any nearby co-pedestrians.

So it'll be striking in a good way.