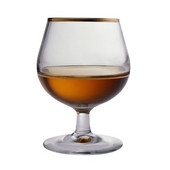 New York nightlife...from faux zebra seating to scantily costumed cocktail waitresses to celebrity-architect bathrooms, clubs have tried everything to stand apart. Everything, that is, except serve you a drink worth remembering.
Not at the newly opened
Double Seven
(on 14th Street—hence the name), where the owners of Milk & Honey and Lotus provide a meticulously researched menu of historical drinks (made with fresh fruits and juices) that changes daily. The intricate preparation at the crocodile-embossed leather bar makes you feel like you're watching a mixologist Da Vinci at work.
A wall of 300 hand-blown amber bulbs lights up this low-key but sexy space, and a DJ adapts to the crowd's mood.
Request the
Ramos Gin Fizz
(not on the menu), a throwback to 1890s New Orleans, with more than a half-dozen ingredients including egg whites, cream and citrus (somehow it's damn good).
Beverage-making is a science here; they use special block ice instead of chips (slower-melting and leaves more room for liquor), offer chocolate pairings and even sex up sobriety with a non-alcoholic cocktail list.
With drinks this memorable, you can expect the wait at the door to be too.