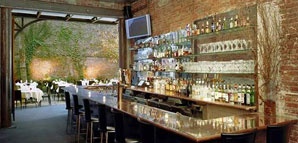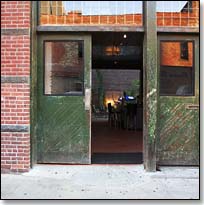 Someone has had the boldness and vision to do what only three dozen others in the past six months have done: open a bar in the Meatpacking District.
Undiscovered Space
This venue is actually worth visiting because no one knows about it...yet
(you're seeing the first released pictures)
.
Opened last week when it was unexpectedly granted a liquor license, the spot has no name, no sign, no PR firm and (most importantly) no attitude.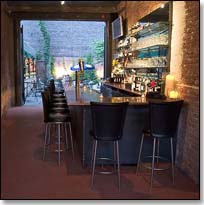 No Queue — But BBQ
Tucked away between tiny
Paradou
and the ghettofabulous
Cielo
, picture a minimalist garage-chic bar (with innovative bartenders and great New Zealand wines) opening up to a charming European-style outdoor garden. Tree branches linger over large group tables, comfortable metal rocking chairs, and a charcoal grill that will be christened Thursday night (hamburgers, steak sandwiches, and kabobs will be served).
Different is Better
The scene is relaxed and attractive—mostly friends of the bartenders and staff. An occasional disoriented patron with an excess of chest hair, Drakkar Noir and extra-hold gel may stumble in, but hopefully he'll be too drunk to remember anything.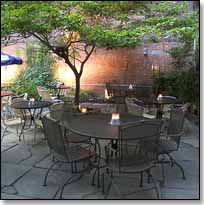 Keep it Quiet
Last thing we want to see is Tara Reid on top of the grill doing body shots off of Rachel McAdams...okay, maybe we do want to see that, but not here—some secrets are just worth keeping.