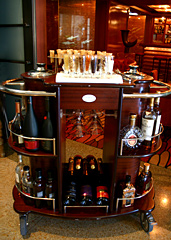 Fact #1: Miami is hot.
Fact #2: ice cream is good on a hot day.
Ergo: you should eat ice cream. Like, for the entire next month.
Here to help you with this: the
Ice Cream Lab
, a new pop-up ice cream cart at the Tides hotel in South Beach, opening tomorrow and running through July.
In short, it's an ice cream parlor/laboratory on wheels, rolling around the hotel's swanky Coral Bar and even making stops in La Marea restaurant every day from morning until midnight.
You don't need any beakers. You don't even need goggles. You just need a willingness to perform advanced, hands-on scientific work on
14 groundbreaking ice cream flavors
like
Strawberry & Buttermilk
,
PB & J
,
Bananas Foster
and
Maple Syrup & Bacon
.
You'll pore over their taste compositions in either a bowl or a sugar cone, and each new case study (also known as a "scoop") costs you $3. (There are also five toppings to serve as additional variables.)
And if you really feel like experimenting, you can add a scoop of ice cream to after-dinner drinks like rum and cognac, which are also on the cart.
We recommend lots of empirical evidence...