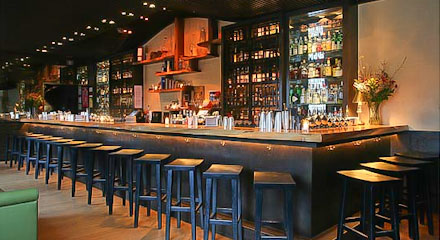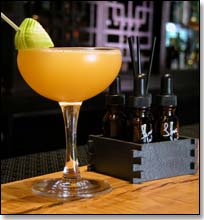 You never know when a new spot will take hold in the city…but we've got a feeling about this one.
Introducing Pegu Club, a new lounge on Houston that's out to change the cocktail scene forever, opening tonight.
Perfect for a chill drink or a casual bite, Pegu finds two of the city's top female mixologists—house mixer Audrey Saunders (Bemelmans Bar) and Julie Reiner (Flatiron Lounge)—serving up a liquor-laced history lesson, with drinks like the Gin-Gin Mule, a spicy gin and ginger mojito made with homemade ginger beer and the eponymous Pegu Club Cocktail—dry gin, orange bitters and curacao.
The décor lands somewhere between a Burmese officer's club and a sleek SOHO cocktail lounge, but for all the good stuff in sight—including "cocktail condiments" like lemon juice and and bitters in eyedropper bottles—Pegu's even more remarkable for what you won't see: Along with the missing soda guns and sour mix, you won't spot a drop of vodka. Don't panic—it's just not displayed, making room for 23 brands of gin, Saunders' preferred liquor.
We've always preferred our history in liquid form.