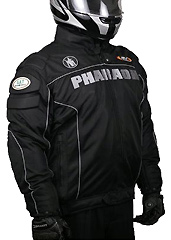 All it takes is an imminent holiday weekend, and your thoughts turn all
Easy Rider
.
You, the open road, a badass leather jacket and a giant hog. That's all you need.
But if your badass leather jacket happens to double as a wearable air bag for the trip—well, that wouldn't be a terrible idea. Introducing a noble feat of road technology called the
Armored Air Jacket
, now available online.
Since you've likely never tried incorporating an air bag into your daily attire, allow us to walk you through how this thing works. Step one: throw your leg over the bike. Step two: zip up your new jacket (there's also a vest option) and attach the jacket's cord to an anchoring cable on the bike. Step three: get on the PCH and ride...
But if anything unfortunate happens and you're suddenly separated from your bike, the cord will be pulled—and the air bag inside your jacket will instantly inflate, offering some crucial support to your chest, neck, ribs and spine.
If all this sounds pretty legit, that's because it is. The jackets have been tested by the same company that tests air bag systems for GM, Chrysler, Honda and Ford.
We anxiously await the inflatable leather pants.