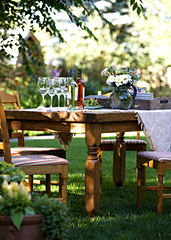 You live by a few simple mantras.
May your malts be single, your wisdom infinite and your gratification instant.
And while we assume you have the first two under control, allow us to assist with the lattermost by granting you access to a certain new restaurant today...
That happens to open next year.    
Introducing
Prelude to Staplehouse
, a preemptive series of underground dinner parties leading up to the eventual brick-and-mortar unveiling of (you guessed it) Staplehouse Restaurant.
But for now, this is basically what would happen if you took a fine-dining restaurant, relocated it to the owner's unassuming Grant Park home and implemented a strict T-shirt and jeans policy. Enforcing that policy is chef Ryan Hidinger (of Bacchanalia and Muss & Turner's) and his wife, Jen (of giving great hugs at the door).
Your evening begins with the smell of housemade bacon from the oven, the Pixies in the background and a few pleasantries exchanged among your equally adventurous fellow diners. From there, it's off to the dining room for five courses of open-kitchen intimate dining, from
White Shrimp Salad with Avocado Terrine
to
Pan Roasted Leg and Breast of Cornish Hen.
No two dinner party menus are created alike, but you can look forward to each course being paired with its own boozy companion... in addition to the usual pre- and post-dinner drinks.
Because all drinks should begin and end with drinks.