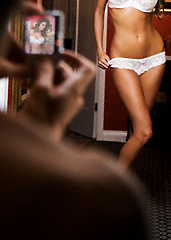 Hilton. Kardashian. Wilkinson.
So many of our city's esteemed cultural ambassadors have fallen victim to that dreaded rite of passage known as... the leaked sex tape.
And as scintillating as some of that footage is, we're assuming you don't want to be the genre's next rising star...
Hence
VidMe
, a video-sharing service that puts the kibosh on massive, out-of-control, privacy-destroying forwarding, now available and ready to solve one of LA's most rampant problems.
So here's a hypothetical. You're having a fun, intimate evening with your limber, non-bashful partner. At some point, one of you gets the idea to go all Bertolucci (or, okay, Rick Salomon), and you proceed to document the night's most poignant moments, for posterity (and, possibly one day, the Smithsonian). Each of you gets a copy, naturally, and then… things don't work out between you. Suddenly you're terrified about the potential YouTube fallout.
We're here to tell you that you have nothing to worry about. If you used VidMe to upload and share the footage, it can't be downloaded or forwarded without your approval. You decide who sees it (content isn't even monitored by VidMe), and if things get a little ugly between you and a former paramour, you can always cancel that person's access.
At least until you make up...