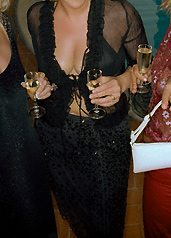 This whole Betty White phenomenon, well, it's been a little strange. But really, it's all just good, clean fun.
Maybe a little too clean.
Prepare yourself for the
National Cougar Convention
, an evening of Mrs. Robinson-style romance set amidst the glamour of an Embassy Suites ballroom near O'Hare, prowling into town this Saturday.
If you remember reading
The Most Dangerous Game
in high school (CliffsNotes version: some rich guys hunt protagonist through jungle for sport), you'll find that this is exactly like that. Well, instead of blowguns there are Cosmos. And the jungle is a Rosemont hotel ballroom. Oh, and the hunters are seasoned ladies who simply enjoy the company of a younger gentleman. With a vengeance.
The evening starts as all good nights should: with a keynote address from an author, lecturer and onetime novelty candidate for California governor (oddly, it's not Arianna Huffington, Larry Flynt or Mary Carey). That should get your engines revved for an evening of playful feline pawing on the dance floor.
Then, naturally, comes the moment you've been waiting for: a Marilyn Monroe impersonator (who really never became a cougar, but Demi Moore impersonators are so in demand these days) announces which of these slinky lovelies won your vote to be crowned Miss Cougar America. The prize: a Bahamas trip on the Cougar Cruise.
So pack your Speedos.