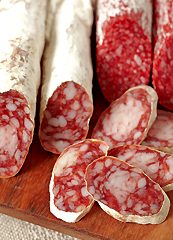 You and your kitchen are capable of making beautiful music together.
And that's a valuable skill set to have for when duty calls (especially when duty is 5' 10'', brunette and has a weakness for lobster thermidor). But lately your kitchen is missing something...
Like an occasion to brazenly toss around words like
Crepinette
and
Petite Sec
—but more on that later...
For now, let us introduce
The Spotted Trotter
, the city's first roving charcuterie purveyor, coming to you this Saturday under the guise of a humble farmers market stand on Peachtree. 
Feel free to think of this as a covert new way to bring curious new meatstuffs into the inner sanctum of your own kitchen (where they belong). First, you'll want to make your way down to the Peachtree Road Farmers Market, then find the chef who looks like he was trained at the French Laundry (or just look for the guy surrounded by meat) and casually request his finest
Brandy Rabbit Boudin
or
Black Pepper and Sorghum Cured Pork Belly
(hold the caul fat this time).
And while you're there, we might suggest drumming up an impromptu brain-picking session on the finer points of salting, smoking, brining and curing your own meats at home. Or if you're really feeling the meat momentum, ask him when and where his next whole-hog butchering class will be.
A skill set that makes lobster thermidor look like takeout.