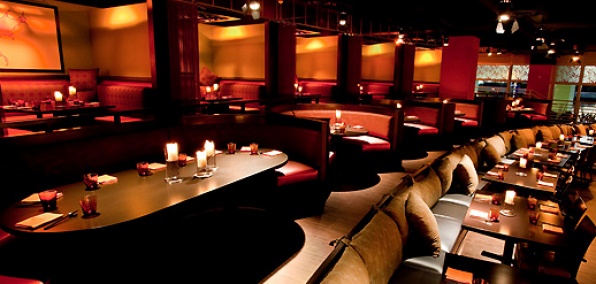 Well, here we are again. Monday.

A day to catch up on emails, gossip... and gigantic, mind-blowing Asian clubhouses in Hollywood.

Travel with us across the Miami-Dade county line to Aizia, a multi-tiered Asian mega-lounge on the Intracoastal Waterway, now fully open.

First, you should know that this place is huge. When you step inside, you'll be able to take a seat at the bar (which puts you close to the stage, for in-your-face salsa and flamenco acts), a semiprivate tatami room (essentially a cushy banquette, giving you and your date/secretary some privacy behind a beaded curtain) or one of two massive communal tables, if you brought your entire fleet of secretaries.

Your dishes will arrive big and fairly theatrical—like the Lava Seafood, sizzling curry shrimp and scallops in a massive hollowed-out scallop shell, served atop a heap of lava rocks. You'll pair these Chinese/Japanese/Thai entrées with some equally multicultural drinks, like the Sakerita, stirred up with sake, lime, cilantro and tequila.

And if you're looking for something a little quieter—or you just need a flamenco break—head to the outdoor patio in the back, which overlooks the water.

Nothing relaxes like a water-adjacent flamenco break.