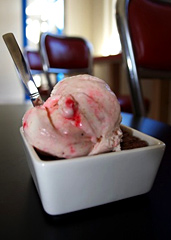 Today, it's finally, fully, officially summer.
And with summer, comes heat. And with heat, comes ice cream. And with ice cream, comes bourbon and corn flakes.
Or, well, it does now.
Introducing
Humphry Slocombe
, a San Francisco outpost of ice cream goodness now mailing their wares across the nation, online now.
Basically, it's as if the world's booziest ice cream shop has opened its doors to you 24 hours a day. What that means is you'll be able to get an order of boozy ice cream delivered overnight, straight to your door, where it will arrive packed in dry ice and ready for immediate consumption. As all great things usually are.
You'll be ordering up the six-pack, which includes some caffeinated flavors (
Blue Bottle Vietnamese Coffee
) and some more out-there fare (
Balsamic Caramel
, an ice cream made with olive oil). But let's face facts about why you're here: the legendary
Secret Breakfast
, made with bourbon and, yes, good old-fashioned corn flakes.
We're pretty sure this is what old man Kellogg dreamed would happen.