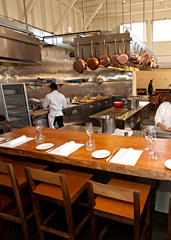 You've never been one to sit on the sidelines.
Unless, of course, there's great seats available.
Maybe even in the kitchen of one of the hottest restaurants we've seen in some time.
So when we heard that the guys from Saison decided to reconfigure their year-old fine-dining pop-up and invite diners to eat right smack in the heart of their kitchen, we thought you needed a firsthand invite.
Welcome back
Saison
, the 2.0 version of a restaurant that's already laid claim to the haute dinner party fine-dining scene, reopening on Tuesday.
While there are now three distinct areas—dining room, kitchen and patio—each with different menus, the spot you want is at the cypress-trunk chef's counter. Aside from being the best vantage point for taking it all in, it's the only reservation in town that requires a conference call with the chef and sommelier to customize your night's menu (if only all conference calls involved pork belly and Barolo).
All of this means that your entire dinner (up to 20 wine-paired courses' worth) will be tailored to your exact preferences—whether it's an all-seafood spread with fish flown in exclusively from Tokyo's Tsukiji Market, or something more grass-fed (and slightly less globe-trotting).
On a more impromptu night, you can walk in on the fly and get a spot on the patio at the reclaimed bowling alley turned communal table (the kingpin of communal tables), beside the wood-fired hearth roasting all the meat for the entire restaurant.
But possession is nine-tenths of the law...