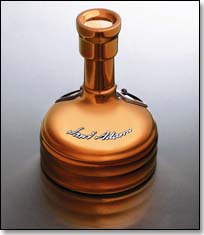 As if drink prices in the city weren't high enough, Sam Adams has decided to raise the price about...$100 a bottle.
Then again, this ain't no ordinary bottle...
The AristoVat
Sam Adams'
Utopias
is a blend of noncarbonated oak-aged beer (aged up to 12 years). It packs a whopping 25 percent alcohol content (making it the strongest beer in the world) and an equally whopping price tag of $100+ per 25-ounce bottle.
Pretty Thing
Luxury price, luxury bottle—the miniaturized copper brewing kettle decanter may be the best-looking beer bottle ever. Only a mere 9,000 bottles have been produced and each one is individually numbered.
So Good Going Down

Our friend the beer snob says
: "Looking like cognac and smelling like port, Utopias hits the palate with the taste of caramel. Apricot notes give a hint of fruit, and the flavor thins to become slightly piney like a dry sherry. It finishes clean and dry with a warming rather than a burn."
We say
: "It's got a kick, and our bottle disappeared faster than a dime bag at a Woody Harrelson party."
No Sweat in this Technique
The brewer suggests drinking Utopias in 2-ounce portions at room temperature, but we preferred it in 10-ounce portions, cold.
Anything but Port in a Storm
Why Utopias? Because you know it looks lame to ask for a "tawny port." Reduce your tool-factor, maintain your buzz—and you'll get to fondle something beautiful, even if it's just the bottle.