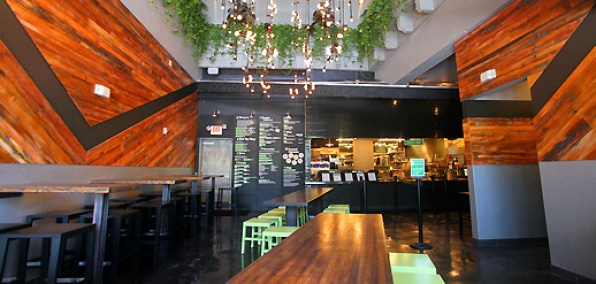 Something's cooking on the western edge of Lincoln Road.
It involves tasty beef patties, hot dogs loaded with toppings and milkshakes so thick they go by the name "concrete."
Prepare to have your fast-food world rocked:
Shake Shack
is here, soft-opening tomorrow and fully opening next Tuesday.
You may be familiar with this New York import, a humble food stand created by restaurateur Danny Meyer, whose quirky shakes and succulent burgers have inspired legendary lines in the Big Apple.
But this location, housed on the ground floor of the
cutting-edge 1111 parking garage
, differs from its NY siblings in that it's mostly an indoors affair. There'll be tables outside eventually, but for now the handsome interior, with its 30-foot ceilings and counters made from repurposed bowling alleys, is where you'll bring a date before catching a movie across the street, or after a long day of beach volleyball with a gaggle of Eastern Bloc women (Estonians prefer extra relish).
As far as the
retro-American snack grub
, here's what you should expect: griddle-cooked burgers on the smallish side, made with fresh-ground, antibiotic- and hormone-free Black Angus beef. They're cooked to order, so while you're waiting for your
ShackBurger
(American cheese, lettuce, tomato and ShackSauce), you can sink a straw into one of the restaurant's trademark super-thick shakes made with vanilla custard.
And because it's an indoors joint, you can also cut loose with an Abita, ShackMeister Ale or Brooklyn Lager.
You've always wanted a beer shack.