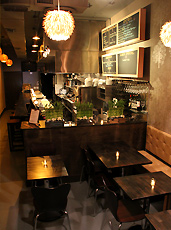 There are only two things to do in Bal Harbour: lay on the beach, and shop. And eat French-Chinese sandwiches.
Okay, make that three things.
Say hello to
Chow Down Grill
, a sleek sliver of Asian street food and other curios, now open steps from the beach in Surfside.
This is where you'll go after a feverish denim-hunting expedition at the Bal Harbour shops, when all you want is a cold beer, some dim lighting and a crunchy French baguette stuffed with beef. The space is tiny (a handful of tables at the entrance, another handful of tables outside on the sidewalk), but we think you'll like its comfy tan benches and mod light fixtures.
You'll want to start at the butcher-block bar, choosing your meal based on the blackboard specials. Most dishes are under $10, and the chef is a China Grill vet who's eager to prep you
wok-focused delights
like
Angus Steak with Mongolian BBQ Sauce
and small plates like
Crispy Crab Rangoon
.
And to wash it down: a rare microbrew from the short-but-good beer list, like Dale's Pale Ale or Morimoto's Soba Ale, specially brewed for the Japanese chef using roasted buckwheat.
Nothing refreshes like roasted buckwheat.