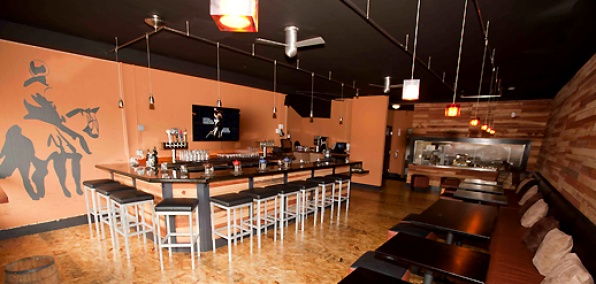 We seem to be having something of a cheese moment here in San Francisco.
Last week, stacks of
grilled cheese
piled high and oozing with all sorts of melted goodness. And now, we're uncovering it in melting pot form...
Introducing
Fondue Cowboy
, the long-awaited lounge and bar dedicated to endless flame-torched cauldrons of cheese and chocolate goodness, opening this Thursday in SoMa for your dipping pleasure.
True to the name, you can expect a fair amount of renegade fondue happenings here. Think of it as the outlaw equivalent of the Matterhorn, where the usual cheese, wine and bread combo will be taken to the next level with extras like spicy sausage, truffle oil and infused salts.
As a hybrid of sorts, the Cowboy will be a good starting and ending spot for that date you don't want to end quite yet. An occasion that calls for a pint of beer or glass of wine from one of their five taps at the bar, in addition to decadent melted goods.
Make your way inside the low-lit, woodsy den to the corner banquette under the stencil of Dirty Harry (a huge fondue fan, we hear), with the 71-inch flat-screen playing silent old spaghetti westerns in sight. Then wait as crock-pots of concoctions like the Gouda and blue cheese foam
Dutch
or
Spicy Cheddar
with roasted jalapeños and Tapatio sauce roll out.
Finally, for something sweet, end with the Mexican-inspired, roasted ancho chili-sprinkled
Spicy Chocolate
.
The Salma Hayek of fondue.