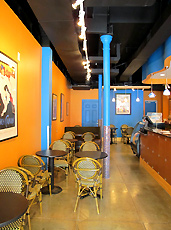 It's Saturday—or, hell, Monday—at the crack of noon. You step out into the all-too-bright summer sun, not too far from the scene of last night's debauchery on 14th Street—a scene that involved cocktails invented on the spot, some pizza and a few Norwegian flight attendants.
You need a cure-all. You need ... a crepe.
Welcome to
Point Chaud Café and Crêpes
, now open on 14th Street to give you 74 ways to beat the morning-after blues.
You'll step in to discover your options include 74 varieties of crepes, divided into savory and sweet options. You might be tempted by daintier choices (blueberry-sour cream, butter and cinnamon), but times like these call for a heartier pick—like the
DC Brunch Special
(a plate-size monstrosity of eggs, mushrooms, cheese, turkey and more) or the
Smoked Turkey, Cheese and Cranberry
. (Basically, Thanksgiving in a crepe.)
And should you want to return on a less desperate occasion—or, indeed, before the occasion gets desperate—you should know that they plan to stay open until midnight on the weekends for late-night snacking. Toward that end, 50 of your choices are of the sweet variety, including a dozen-plus with Nutella.
In keeping with your strict no-Nutella-before-sundown policy.