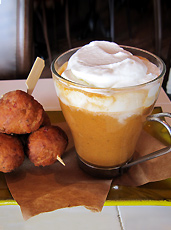 Today, as you know, is National Doughnut Day.
And while you could, of course, commemorate this historic occasion with a few glazed treats and a cup of joe, we have a better idea.
And by better, we mean more lobstery...
Presenting the genius that is
Lobster Cappuccino with Lobster Beignets
, now waiting for you at Sugarcane Raw Bar Grill.
In short, this is perhaps the finest take on coffee and doughnuts ever created. And while it contains very little caffeine (okay, none), it's definitely the thing to order when you find yourself in the mood for both lobster and doughnuts.
Making it is no easy task, though. Chef Timon Balloo slow-cooks a bisque for six hours, then adds chunks of lobster meat, tops it with heavy cream and accompanies the velvety concoction with a few fried balls stuffed with lobster meat.
To properly take it down, you'll want to park yourself at one of the meticulously scuffed tables in the lounge, tuck in a lobster bib (optional) and get busy dunking. With each bite, you'll sense the sweetness of the lobster, the richness of the cream and the satisfying crunch of the fluffy fritters.
This also paves the way for the Krispy Kreme po'boy...