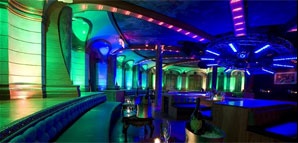 Chances are that when you hit the dance floor, you own it (...in your own special way).

Which is why you'll really like your odds at the MPD's newest madness set to open this Friday evening: Kiss & Fly.

Kiss & Fly is the next step in the exclusive service you've come to expect in your night out on the town—along with your own table and champagne bucket, you now can expect your own little elevated dance floor with just room enough for two (it's the loveseat of dance floors).

If the place feels like Roman excess, that's because it is: The massive coliseum-like space is adorned with golden columns and arches and, most impressively, a take on Michelangelo's Sistine Chapel painted on the ceiling. It could end there, but thankfully it does not. Rivaling (but not really) Bellagio's fountain show, as the night warms up a light show powered by 750 hidden LED lights takes the mood from chill to...not so chill, and a nitrous tank showers you with the occasional gale force burst of cool air (so things don't get too not-so-chill.)

As for a table, you might prefer The Temple, a candle-ensconced gazebo with gold throne-like chairs, a roundtable and a swing hanging from the ceiling (Romans love swings).

If all of that isn't enough for you (or if it's too much), you can expect adjacent French restaurant Bagatelle to open January 1st, and downstairs lounge Coco Deville to open in February.

But we think you can handle it.