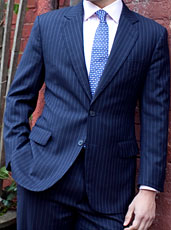 Here's a prediction: between now and the end of summer, you're going to need a suit.
Summer wedding. Big meeting. Formal beach volleyball match.
So here's what we're going to do: take some measurements, get online, and hash this thing out.
Introducing
Alton Lane
, a New York tailor with an ingenious method of fitting suits online, in private beta now.
Basically, if you enjoy getting a suit made, but don't want to have to actually talk to anyone, this site's for you. You'll start by picking the basics (pattern, cut, how many buttons) and the not-so-basics (monogramming). As you go, you'll see an impressively realistic preview of your suit on a digital avatar. (Your move, James Cameron.)
At that point, you'll have three options: 1) Consult your local flesh-and-blood tailor for a fitting, or take your own measurements with some help from the site. 2) Send in your best-fitting suit for a measurement. (You'll get Old Blue back, don't worry.) 3) If you're in NYC, stop by their brick-and-mortar showroom for a fitting, quite possibly
involving a robot
. If you have questions, the site includes plenty of old-school suiting advice and history, though you can email in with any style questions you might have. About a month later, you'll have your suit.
And one superbly dressed avatar.