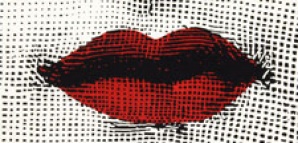 In your more profound moments, you've been known to say your life is a continuous quest to redefine art.(You always get profound after that second drink.)

So you know that art doesn't necessarily need to be limited to your walls—it can quite literally be walked all over. Introducing the new Fornasetti Collection by Roubini Rugs.

You might recall the Roubini legacy—they first collaborated with Missoni, and later came partnerships with Gianni Versace, Roberto Cavalli and Farhad. The new collection is based on the work of Milanese artist Piero Fornasetti, who never met a medium he didn't like. Call him a painter-sculptor-engraver-decorator...and late patron of floor art.

You'll be most easily taken with the portraiture pieces, on which body parts are rendered with surprising detail—a woman's eye is glimpsed up close or through a keyhole, an arm stretches out languidly—but those are only one aspect of the collection. There are also architectural renderings of ancient courtyards, as well as natural subjects like a large leaf or a coiled serpent. (You've always bemoaned the lack of ominous reptiles within your civilized dwelling.)

In the new year, you'll soon be seeing these rugs around Los Angeles stores, but you can beat your formidablecarpet-obsessed competition now via the company's website.

And then you can focus upon your suddenly non-artistic-seeming ceilings.