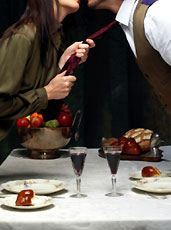 A valiant effort in your own kitchen goes a long way.
Flickering candlelight. A chivalrous attempt at braised lamb shank. The very best of John Tesh in the background.
No disrespect to Mr. Tesh (or his flowing locks), but your date-night arsenal could always use a little spicing up.
We'd like to suggest a little risk taking.
Introducing
Dinner Party Roulette
, an evening of wine, hookahs and dining with strangers at Ziba's Restaurant & Wine Bar, now taking reservations for the debut this Saturday.
Think of it as the group blind date you didn't know you wanted to go on. First, you and your date will enter the dimly lit, hookah-friendly lair and take your place at the communal table in the center of the room. From there, your six mystery guests for the evening will stroll in, and all that's left to do is sit back, relax and let the evening unfold as it may.
Vietti Nebbiolo will be poured,
Citrus Braised Baby Octopus
will be passed, and chocolate hookahs will be smoked. And while taking a date out with six complete strangers may be a risk, at the least you'll up your date-night ingenuity cred. At the most, well, who knows who you might be sitting next to...
And to show their admiration for the brave souls who take this giant leap of communal faith, Ziba's will be footing the bill for the first two bottles of wine, as well as their after-dinner hookah service.
Take that, John Tesh.