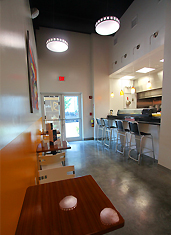 It's hot out.
Which means you're in the mood for something light. Something refreshing. Something that marries the minimal elegance of Japan with the fiery passion of Peru.
Introducing
SuViche
, your new South American den by way of Asia, soft-opening today for lunch and dinner downtown.
First, a few housekeeping items. The restaurant will be in soft-open mode until Monday for both lunch and a short dinner window (from 6 to 8pm). And during that time, as they work out the kinks (read: finalize the outdoor deck with ample sidewalk seating), your bill will be half off.
So you'll want to grab that Lima-born temptress who spent time teaching in Tokyo (you know, that one), take a seat at the indoor sushi bar and embark on a
cross-cultural odyssey of raw fish
.
You'll have 20 maki rolls to choose from, like the
Nut Roll
(shrimp, cilantro, macadamia nuts and cucumber topped with spicy mayo), and tapas like the not-briefly-named
Tiradito en Crema de Ají Amarillo
, thin sashimi-style cuts of fresh fish marinated in fresh-squeezed lime and spicy yellow pepper cream sauce.
Sometimes it's best to fight fire with fire.