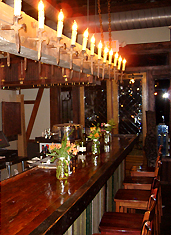 It's a big city out there.
Office politics and hidden agendas. Secret handshakes in back alleys. Boardroom finger-football tournaments.
So it's easy to lose sight of one simple fact—you're still in the heart of the South.
You know. Spanish moss, sweet tea, grits...
And with that in mind, we'd like to introduce you to
Farmstead 303,
a polished little Southern belle of a restaurant, opening Tuesday in the old Decatur Depeaux space.
Basically, it's that rare place that fulfills two critical (if completely unrelated) purposes: it's a perfectly suitable spot for impressing visiting parents (yours or hers). And—thanks to a cozy, dimly lit bar—it doubles as a sneakily effective third-date option. It's housed in an old train depot from 1891, so you'll find sleek-lined art deco light fixtures on high ceilings above rickety hardwoods. Oh, and an antique wagon (you knew an antique wagon would be involved).
Now, about those grits... You'll want to check out the
Pork Loin Ham with Grits and Red Eye Gravy
, call for a bottle from north Georgia's own Wolf Mountain Vineyards and settle in for a long, slow evening of simple pleasures.
Never eat ham and grits on an agenda.