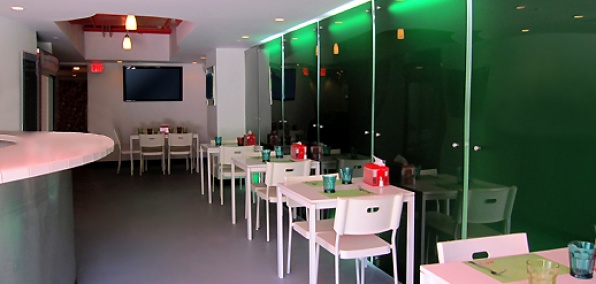 It seems like just last week you were feasting on
fish tacos and beer in Midtown
. Okay, maybe it was two weeks ago.
In any event, we think you have room for another stellar taco joint in your
pico de gallo
-loving heart. And here it is:
La Lupita,
a deceptively advanced Mexican cantina that quietly opened over the weekend a block from Mary Brickell Village.
The futuristic-looking space feels like something out of
The Fifth Element
—green plexiglass walls, mod white chairs and a curved food counter, behind which handkerchief-wearing
abuelos
preside over massive cauldrons of smoky black beans and sautéed beef (everything but a bleach-blonde Bruce Willis).
Despite the space-age vibe, you're going to feel relaxed here. There's a big flat-screen on the back wall always tuned to soccer games and a larger dining room in the back with more flat-screens—so it might be the perfect little hideaway to catch a few World Cup matches over a couple of beers.
Food-wise
, it's got the conveniences of a quick-service joint (clean, bright, fast) but serves authentic old-world recipes like the
Molcajete
(lava bowl) layered with steak, cheese, guacamole, onions and tomatoes. Six taco types round out the menu (steak, chicken, chorizo) and each will set you back just two bucks.
You could get used to this future.