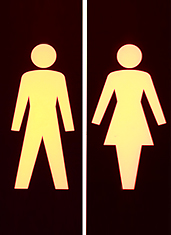 It's happened to you before.
There you are, enjoying a liter of wine in Boston Common with your Chilean lawyer girlfriend, when you suddenly gotta go.
Really
go. But the whereabouts of the closest bathroom are unknown, and panic starts to creep up your spine...
From now on, you can call on
Sit or Squat
, a particularly useful website and free mobile app for your iPhone or BlackBerry, now available.
Essentially, this is the app that George Costanza invented on the
Seinfeld
reunion episode of
Curb Your Enthusiasm
—come to real life. And you'll be happy to know it's so easy, Kramer could use it: next time nature calls while you're out and about, simply pull up the site and let it know where you are. A map will immediately pop up, detailing all of the nearest johns, loos and heads in your vicinity (there will probably be a bunch; the site knows of 88,000 toilets, and counting).
You'll also appreciate that there's a ton of user-generated intel on the app—like the hours a bathroom is accessible, and its level of cleanliness. Users even say whether a throne should be sat on, or squatted over.
And with that, social media has finally revealed its true purpose in the world.