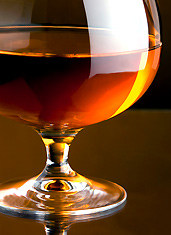 Good things. Small packages. You know the drill.
To take just one hypothetical example: trying a tiny amount of scotch from every corner of the globe. Okay, it's actually not that hypothetical...
Introducing
Drinks by the Dram
, a new way to sample the world's craziest scotches, one small bottle at a time, online now.
It's like having the world's best airplane bar at your fingertips. You'll have access to nearly 70 whiskeys (with more on the way), each shipped to you in a tiny bottle—roughly the equivalent of the pour you'd get from a friendly bartender. (And slightly less than you'd get from a very friendly bartender.)
You'll pick up one tiny bottle here (say, a 1990 Laphroaig, only 200 bottles of which were made), and one tiny bottle there (say, a rare scotch that was aged in an Italian wine cask). And if they don't have what you're looking for, the guys behind this operation will find it for you with the help of someone called a "Whiskey Detective"—basically, the Magnum, P.I., of scotch.
And lest you think the Scots' expertise begins and ends with scotch, one example is a Jamaican rum that was brought to Islay, where it was matured in a scotch cask.
You've always said your rum could use a little more scotch.