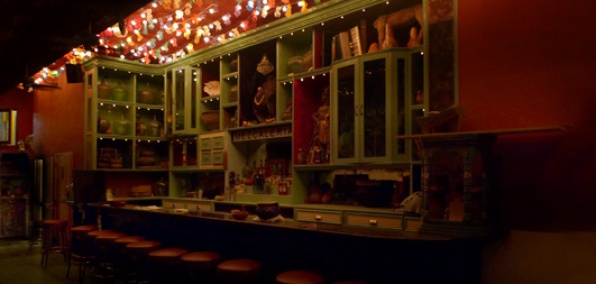 The time has come to think big.
Yes, you cherish your hidden
nooks
and
crannies
, places to pass low-lit downtown evenings in the company of your co-conspirators.
But sometimes we can all use some serious elbow room. Three floors' worth of it...
Welcome to
Casa Mezcal
, a genuine mansion of mezcal, music, Oaxacan deities and alligator skins, opening next week on the Lower East Side.  
Think of it as a place to show a date your dedication to the arts: the granite facade outside explains Casa's mission as "Cine, Musica, Comida, Arte, Bar."
But let's focus on the bar. As befits any three-floor mansion, there are three bars, each stocked with endless rows of rare and opaque bottles of mezcal. Start on the ground floor with a glass from the owner's private distillery in Oaxaca, primed for sipping neat.
From here you could go up—to the plush gallery room overlooking Orchard Street—or down, where you'll find a movie screen and music stage, as well as a massive alligator skin splayed open on the wall. (A none-too-subtle warning to the band about what happens when management is unhappy with the performance.)
Lastly comes the
comida
, also via Oaxaca. Yes, there will be handmade tortillas and tacos. But also available: a local delicacy of fried grasshoppers with melted cheese.
Like we said, there will be tacos.