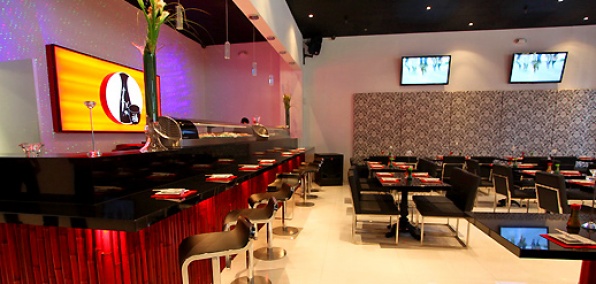 It's Wednesday, and if we know you (and we do), you're looking for something to chase away the midweek doldrums.

And here it is: the brand-new Brickell outpost of Sushi Sake, bringing you 99-cent jars of sake and a whole lot of sushi disco, now open on Calle Ocho.

If you're familiar with the raw-fish empire that is Sushi Sake, then you know to expect the wild maki concoctions and thumping house music that have made them a hit in Kendall and North Miami. You'll recognize the same fun vibe at this branch, from the go-go dancers they had at their grand opening party to the team of bandana-clad samurai you may see in here from time to time.

But all the flat-screens playing music videos in the world would be nothing without some tasty sushi, so this place is rolling out Black Jacks (tuna, eel, avocado), Marlins Rolls (seared scallops, asparagus, crab salad) and 34 other sushi bundles.

You'll also like that they're open until 5am on the weekends, and every night is a little different—there's half-off sake bombs on Mondays, dollar sake drinks on Wednesdays and karaoke on Thursdays.

On Tuesdays, you and your sushi rest.