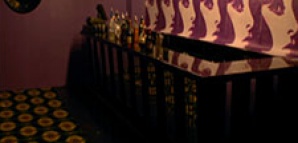 There's nothing like a little history. If a spot's been around long enough, you can feel it in the walls. Even after a renovation or two...

Opening Saturday in the same West Village space as the pants-optional Misshapes haunt Luke & Leroy's, Le Royale aims to carry on the tradition of eclectic music, drunken hipsters and general debauchery. Equal parts Vegas kitsch and pop art, the new space brings in an upstairs stage and a whole lot of purple, but the spirit remains the same.

Inside, it's all about history. Specifically, taking you back to that brief era when patterned carpets and mirrored walls were considered normal. As for the Warhol-esque wallpaper...well, you get the idea. But with a steady stream of top-shelf rock and electronic acts, and Friday nights taking over Movida's Robot Rock party, you won't be in danger of getting too retro.

The music's upstairs, but our advice is to stay below, squeeze past the crush at the bar and head for the black banquettes in the back, where there'll be a little room to mingle.

No word yet on whether they'll let you check your pants.