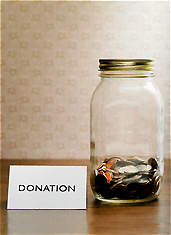 Cocktail receptions. Town Hall meetings. The occasional den of iniquity.
Yes, you know all the hot spots for fund-raising.
But sometimes, you need to forgo pressing the flesh and just raise as much cash as possible.
Which brings us to
GoFundMe
, a new service devoted to helping you raise gobs of funding for your next run for office (or your next globe-spanning yacht jaunt), online now.
Now, let's be clear: it's not as if you don't have the dough. But when it comes time to raise funds for your next mountain-climbing expedition, PAC or rock opera about the history of bacon, we believe in following an old rule of Hollywood: use someone else's money.
Toward that end, you'll start by creating a donation page, adding some eye-catching video and photos, and picking out a background color. (We like a strong bipartisan purple.) Then you'll connect your account to PayPal, send out a few links on Facebook and Twitter, and start watching the dough roll in—all while tracking your donations by day and donor.
Remember: election day's just over five months away...