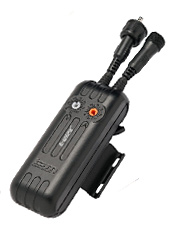 It's a problem as old as time: you're biking somewhere, and you need to charge your cell phone... with your bike.
Okay, maybe not. But if someone told you that right here, right now, you could in fact do just that, well, you'd be willing to listen...
Which brings us to the
E-Werk
, a gizmo that powers your gadgets with your bike, available now. (And why, yes, it
is
German.)
Basically, it's how the Flintstones would charge their cell phones, or how the Jetsons would ride a bike. Here's how it works: you strap it onto your bike, and ride. Using the power of your pedaling, the generator produces electricity, which then transfers to the E-Werk. Thereby turning you into your own personal power plant.
As you ride, you can plug your phone, iPod or personal bullhorn into it—you never know when your next emergency call (or next emergency listening of "Against the Wind") will strike. Or, perhaps, you could just use it to charge your phone.
Be warned: people might think you're from the future.