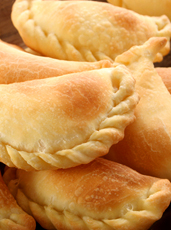 It's hard to think about next week, what with your mind focused on flying to Cannes for the weekend and dousing Spanish actresses with champagne.
But when the workweek commences, you're going to want something hearty and satisfying—i.e., something meaty, cheesy and encased in dough.
Good thing
Half Moon Empanadas
is opening a new downtown outpost at 8am Tuesday morning.
If you live on or have ever set foot on South Beach, then you already know about the Half Moon artisans and their savory crescent-shaped snacks, filled with things like spicy beef, egg, smoked pancetta and/or mozzarella. Well, now all that bronzed, pocket-like tastiness will be available at a bright new shop within walking distance of AA Arena.
Which means you'll want to pop in here when you're taking a quick lunch, or you're embarking on an impromptu picnic on the River Walk with a friend you met at a recent film festival. Not only are the empanadas hot and delicious, these ones (unlike the ones on South Beach) are baked, not fried, which is good news for your abs...
Plus, they're cheap (around $2 apiece), and in the mornings the shop will also be selling South American-style pastelitos (pastries) filled with dulce de leche (caramel) and guava.
You had a good run, doughnuts.