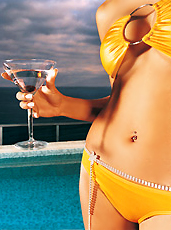 The coconut bra.
Probably not something you think much about. But today, we'd like to remind you that it exists—and that you need this seemingly innocent trifle in your life.
Which brings us to tiki parties. Which brings us to mai tais. Which brings us to... how do you make a mai tai?
Introducing
Trader Tiki's Exotic Syrups
, a new line of cocktailing essentials from that tropical paradise known as Portland, Oregon, available now.
You already know the drill: as day gives way to night, you get a pig roasting on a spit, light up a couple tiki torches, and begin passing out mai tais and grass skirts with reckless abandon. And as your friends (possibly clad in the aforementioned coconut bras) begin enjoying said mai tais, they're likely to begin asking you your secret ingredient.
And this is what you'll tell them: syrups, lovingly handcrafted by a California expat who headed up to Portland a few years back, where he's been testing his wares—with, we assume, a crack team of hula girls—before prepping them for nationwide consumption. In those deliciously sweet mai tais:
Orgeat
, made with almonds. In their rum punch:
Don's Mix
, a cinnamony syrup, made with apricot from Barbados.
Your preferred source of apricot.