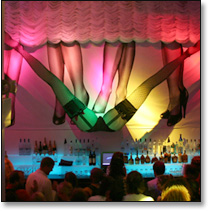 Yes, there's a giant disco ball. Yes, there are cheetah-print banquettes. And yes, there's a neon-lit staircase.
Although this sounds like the makings of a massive cheesefest,
Happy Valley
actually works. Why? This place doesn't take itself too seriously.
Studio 55?
In a tribute to Manhattan's legendary nightclubs of the '70s and '80s, Happy Valley has taken 2005 clubgoing where it needed to go—over the top, all over again. One look at the pair of giant 12-foot-long legs spread open above the bar (a not-so-subtle connection to the club's name), and you'll see this place makes
Bungalow 8
look like a Doubletree hotel bar.
Ritalin Required
Consider popping some Ritalin beforehand—it takes some serious concentration to keep track of this high-energy spectacle. A massive set of tiered steps leads up to a cloud shaped bar, while the colossal hollowed-out disco ball houses the DJ booth. The cheetah-print banquettes match the cocktail waitresses' shortsuits and the neon-lit floors near the bathrooms reflect off (yes, seriously) disco ball-mirrored toilets.
Although it opens to the public tomorrow night, last night's private party welcomed celebrities, a good chunk of the fashion world, and beautiful hipsters. A downstairs lounge is scheduled to open in a few weeks.


Boogie Nights, 2005
Owners Joe Vicari, Sal Imposimato and Fabrizio Brienza created Happy Valley to be a kind of freewheeling utopia in the center of the city—"We want our guests to be able to do whatever they want," says Imposimato. "Smoke, drink, dance, really get crazy." Smoking may be illegal, but with this space, you can see all kinds of municipal codes being broken.
They don't call it the Happy Valley for nothing.