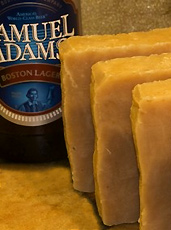 Ben Franklin once said, "Beer is living proof God loves us and wants us to be happy."
What you might not know is he went on to say, "Try it in the shower."
Okay, he probably didn't say that. But as it turns out, he could have...
Presenting
Sam Adams Beer Soap
, a new way to spend some quality time with your favorite hoppy beverage, now available.
Now, you may be thinking: hey, small-batch artisanal soap made from Samuel Adams Boston Lager is a waste of perfectly good beer. And we understand. But you're going to have to get past that.
Because in reality, when you boil a Sam Adams in combination with coconut, olive and soybean oil using something called a "cold process" (we're assuming it's a cousin to "cold-filtering") and then cut it up into bars, it actually produces a soap that's great for your hands and your skin. (For a more in-depth tutorial on soap-making and its potential for mischief, see
Fight Club
.)
And when you think about it, it's not even that crazy. The natural amino acids and B vitamins found in beer are known to be good for your hair (as you can attest from freshman year, when you shampooed exclusively with Killian's Red), so the same can be applied to caring for your skin.
Next up: vodka body wash.