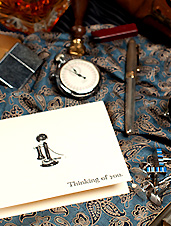 Sometimes you goof.
The Dow crashes 1,000 points. (My bad.) Millions of gallons of crude oil gush into the Gulf of Mexico. (Whoops.) You call a British voter a bigot on an open mic. (D'oh.)
Things happen. You say you're sorry and move on.
But sometimes in life, there are catastrophes that all the shrugged shoulders, upturned palms and containment domes in the world can't fix. In other words, we hope you didn't forget Mother's Day. It was yesterday.
Here to make sure that kind of world-altering mishap never, ever happens again, we present
Forgetful Gentleman
, an elegant, personalized stationery system that might just replace your personal secretary once and for all.
Think of this as an insurance policy for your civility. Each set of cards comes with access to an "online event reminder system"—which basically means the company will send you text message reminders for when to break out your fountain pen.
If you need a classy birthday note for your business associate or a love note for your other associate, you'll have your pick of cards on which to inscribe your prose, poetry or bawdy haiku. And as befits a card-giver of your stature, they're all housed neatly in a velvet-lined wood box.
Hallmark never has the velvet-lined box you need.